DAISY Award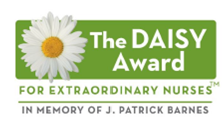 The DAISY Award is an international program that rewards and celebrates the extraordinary compassionate and skillful care given by nurses every day.
Jefferson is proud to be a DAISY Award Partner, recognizing several of our nurses with this special honor throughout the year. DAISY Award honorees personify Jefferson's remarkable patient experience. These nurses consistently demonstrate excellence through their clinical expertise and extraordinary compassionate care. They are recognized as outstanding role models in the nursing community.
This award program offers patients, families, and professional colleagues a way to honor staff nurses for all they do.
How to Nominate an Extraordinary Jefferson Nurse
Patients, visitors, nurses, physicians and employees may nominate a deserving nurse who exemplifies the kind of nurse that our patients and families, as well as Jefferson staff, recognize as an outstanding role model. To submit your DAISY Award nomination, click the button below, fill out the e-mail form and send.