Discounts & Perks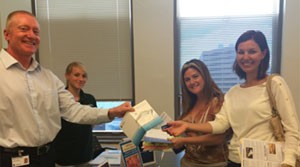 For being a Jefferson employee, you can take advantage of a wide variety of discounts throughout the Philadelphia area, from savings at local restaurants to discounts on your phone bill! Read below for a sample of some of the amazing perks.
Benefits Plus
Through Jefferson's voluntary benefits program, Benefits Plus, employees may take advantage of corporate discounts on products and services such as computers, jewelry and gym memberships.
Commuter Services
The Commuter Services Office provides transportation and parking discounts to employees and students of Jefferson, including SEPTA, PATCO and several parking structures around campus. Employees may enroll in payroll deduction and use pre-tax dollars to save even more!
Cell Phones
Jefferson has corporate agreements with several major cellular phone providers.  By registering your cellular account with one of these companies, you may be eligible for a discount off of your monthly bill. 
Discount Tickets
Jefferson offers a variety of discount tickets to the movies, performing arts, museums and local attractions for employees.
Tuition Assistance
Jefferson supports employees who seek higher education through a generous tuition assistance program. Full-time and part-time employees are eligible.
Library Privileges at University Library
Employees are giving full access to the Scott Memorial Library and computer labs at Jefferson Alumni Hall.