Child & Family Care
Child Care Center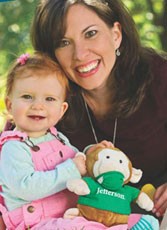 A child care center is available for Jefferson employees, located on Jefferson's Center City campus. Operated by KinderCare Education at Work,  the center is licensed for 56 children, ages six weeks to five years, and is supported by Jefferson Administration in its operation, developmental programs, and continued enhancements.
Additionally, KinderCare Education at Work  offers discounted rates for Jefferson employees at any KinderCare or Champions facility. There are over 70 centers within 25 miles of downtown Philadelphia.
Adoption Assistance
Jefferson provides up to $4,000 in adoption assistance for adoption agency fees, placement fees, lawyer's fees, and temporary foster care charges. 
New & Expecting Mothers & Families
Parent & Family Education Programs
Parent and Family Education Programs are available to assist new and expecting mothers and families at no cost or discounted prices to Jefferson employees.
Lactation Lounges
Private employee lactation lounges are available for breastfeeding mothers returning to work. At present, there are eight Lactation Lounges on the Center City campus and one lactation lounge at the Methodist Campus. 
Breastfeeding Warmline
Certified lactation consultants are available to answer questions and provide additional information about many topics related to breastfeeding.