Diversity
Thomas Jefferson University has a long and proud history in contributing to the national healthcare workforce. It aspires to create a diverse and inclusive environment, knowing that the creative energy and innovative insights that result from diversity are vital for the intellectual rigor and social fabric of the University and is requisite for a highly effective healthcare workforce of the future. As a scholarly community, the University welcomes people of all racial, ethnic, cultural, socio-economic, national and international backgrounds, diversity of thought, pedagogy, religion, age, sexual orientation, gender/gender identity, political affiliation and disability.
Jefferson is committed to creating an environment that embraces backgrounds and cultures from across the globe. We all bring something unique to the work environment, and by celebrating our differences, we accelerate innovation. At Jefferson, we believe we all have something to learn from each other. And by valuing our diversity, we grow stronger together as a preeminent forward-thinking organization.
Below are a few programs that demonstrate how we recognize and support our employees and the Philadelphia community.
Veterans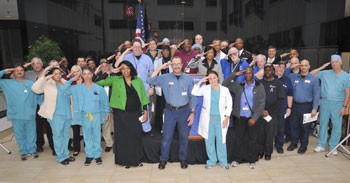 Each year, Jefferson recognizes its employee veterans with a celebration on Veterans Day. Employees who have served their country share stories from the frontlines and how their experience continues to contribute to their work at Jefferson.
LGBT Community
Jefferson is the first organization in the country to host the Human Library. Originally created in  England, unique event allows medical students to "check out" a human book, to learn directly from Jefferson staff about their experiences as a member of the LGBT community.
For providing programs and care to support the LGBT community, Jefferson has been recognized by the Healthcare Equality Index as a Leader. To receive this distinction, organizations must offer diversity training to clinicians and staff, and satisfy several requirements to provide appropriate care for LGBT patients.
October is LGBT History and National Bullying Prevention Month, and Jefferson is raising awareness of these important issues through Cerebral Palsy Guidance, which supports LGBT children with CP who face bullying on two different levels.
Celebrating Our Culture
Within our Employee Advisory Council is the Diversity & Inclusion subcommittee. Throughout the year, they coordinate programs and event to recognize and celebrate the diversity of cultures on campus. This past year, Jefferson held an event featuring guest speakers and performances from various groups in recognition of Martin Luther King, Jr. Day. Performances were given by the Kùlú Mèlé African Dance & Drum Ensemble and Raíces Culturales Latinoamericanas / Bomberos de la Calle.