Allied Health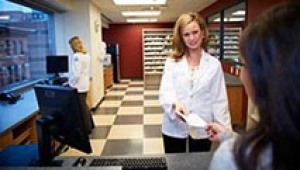 Combining medical technology with the human touch, our Clinical Support Professionals administer care around the clock, responding to the needs of a wide variety of patients. Whether you are looking for jobs as a medical technologist, an imaging tech, clinical pharmacist or therapist, our team approach sets us apart from the rest. Please read below for more information about each area.
Our employees are our most valuable resource and strength in furthering our mission as a regional academic medical center. In keeping with this mission, it is our goal to recruit, retain, develop and reward highly-qualified employees.
We are looking for talented and dedicated individuals to join our team and help us live our mission, "We Improve Lives."
We can only achieve our mission, vision, values and strategic goals through a committed and loyal work force. And our commitment is to be one of the best places to work in the Mid-Atlantic region. Jefferson offers competitive salaries and benefits and helps employees balance work and home life.
"More than ever before, Pharmacists are being called into action to be active participants in the interdisciplinary care team to face today's challenging healthcare  landscape. As experts in medication management, Pharmacists must assume responsibility for bridging the many gaps that still exist in our delivery systems to ensure optimal management of simple to complex disease states."
Joanne S. Heil, PharmD., BCPS, AQ-Cardiology
Director, PGY1 Pharmacy Residency
Coordinator, Heart Failure Transitions of Care Program
Rehabilitation Medicine
Consistently ranked as among the best hospitals in the nation for Rehabilitation by U.S.News & World Report, Jefferson physicians and therapists have been leaders in rehabilitation medicine for more than 30 years. A team of occupational therapists, physical therapists, speech language pathologists, rehab nurses, therapeutic recreation specialists, social workers and psychologists support the full-time staff of board-certified physicians. The Department's goal is to evaluate and treat patients with a disease, disorder or injury that impairs normal function.
The Department of Rehabilitation Medicine is also home to the Regional Spinal Cord Injury Center of the Delaware Valley. Jefferson, in affiliation with the Magee Rehabilitation Hospital, is designated as one of the nation's 14 Model Spinal Cord Injury Centers by the National Institute on Disability and Rehabilitation Research in the U.S. Department of Education's Office of Special Education and Rehabilitative Services, and is the only such center in the Delaware Valley.
Pharmacy
The primary activities of Jefferson's Department of Pharmacy are providing pharmaceutical care to our patients. In performing this function, our pharmacists play an integral role in the delivery of patient care throughout the Hospitals.
Some examples of how Jefferson pharmacists support specialized aspects of the Hospitals' patient-care mission include:
Infectious disease management
Pharmacokinetic screening and monitoring
Acute and chronic pain management
Code blue responses
Therapeutic interchanges
Comprehensive drug therapy reviews
Specialized nutritional support
Leadership in medication safety initiatives
Promoting New and Better Ways to Deliver Patient Care Excellence
In addition, our pharmacists work together with members of the medical staff, nursing staff, Hospital administration and numerous other Hospital personnel to promote new and better ways to deliver excellence in patient care.
Convenient Outpatient Pharmacies in Center City Philadelphia
Jefferson's Department of Pharmacy staffs outpatient pharmacies in three convenient Center City campus locations.
Inpatient Pharmacy Service
Jefferson's Department of Pharmacy provides comprehensive, 24-hour inpatient pharmacy service to patients, physicians and staff who are in the Hospital. Learn more about our pharmaceutical services.
Clinical Laboratories
Jefferson's laboratories provide a complete range of advanced testing capabilities to support the diagnosis and treatment of patients throughout the Hospital.
The Department's anatomic and surgical pathologists are divided into specialized subgroups within the laboratories that focus on chemical, endocrinologic, toxicologic, radioimmune, flow cytometric, hematologic and microbiologic tests.
In particular, Jefferson pathologists play an integral role in the care of cancer patients by analyzing tumor samples to make precise diagnoses and to stage cancers. The expertise of our pathologists is essential in determining the best course of treatment. Reports from pathologists also help gauge a tumor's response to therapy to determine its effectiveness and plot a new course of treatment if necessary.
Our pathologists comprise a large and active group of researchers who conduct both basic technological and applied pathology investigations. Areas of concentration in which researchers have made advances include liver pathology, basic cancer research, electronmicroscopy, oncologic immunopathology and the effects of alcohol on the body.
Radiology
Patients receive the latest in high-quality diagnostic and treatment imaging services at Jefferson's Radiology Department. Our facilities include state-of-the-art equipment and are staffed by skilled technologists and nurses. Jefferson radiologists perform and interpret nearly half a million examinations per year. Today the Jefferson Department of Radiology is recognized as one of the premier departments in the country based on clinical expertise, academic productivity and excellence in educational programs.
In order to achieve the highest levels of diagnosis and interpretation, the Department is divided into nine divisions, based on either anatomic system or imaging modality. Each division has a director who is responsible for the quality of examinations and workflow within their area. Divisions function as a group to provide expertise in all imaging modalities and techniques, and the highest possible quality of medical care.
---
An Equal Opportunity Employer
The Thomas Jefferson University & Hospitals is an equal opportunity employer and does not discriminate on the basis of race, sex, sexual orientation, gender identity, religion, color, national or ethnic origin, age, disability, or veteran status.