Research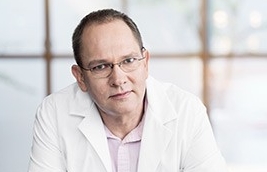 Matthias Schnell, PhD, Director, Jefferson Vaccine Center, Sidney Kimmel Medical Colleague at Thomas Jefferson University
Exciting research initiatives are taking place here. Our researchers work with regional, national and international partners to conduct innovative research.   We provide services that enhance the academic research environment, reduce administrative burdens, help find funding opportunities and ensure participants' safety. Cross-departmental and school collaboration is encouraged to create a culture that supports collective research excellence.
We know that your ideas need an audience and blueprint. Our Innovation Pillar is where we test new business models and nurture entrepreneurialism among members of the Jefferson community. We'll partner with influential leaders and organizations to help us lead the creation of new technologies, research and thinking.  From creation to execution, our relationships will provide the foundation to see those ideas come to life.  We want to make a profound change by adopting new forms of value creation.
---
An Equal Opportunity Employer
The Thomas Jefferson University & Hospitals is an equal opportunity employer and does not discriminate on the basis of race, sex, sexual orientation, gender identity, religion, color, national or ethnic origin, age, disability, or veteran status.