Staff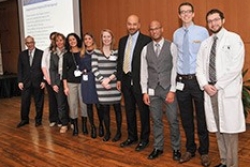 Pictured is the Pediatric/Emergency Department Workgroup being recognized at a manager's meeting with the Top of the Klass team award.
Jefferson fulfills a crucial role as a regional center for excellence in health care. Jefferson offers remarkable resources and competitive benefits to support our colleagues and their careers.
Jefferson includes numerous non-clinical departments that support the high quality clinical services we offer our patients. Dedicated colleagues in Finance, Marketing/Communications, Human Resources, Patient Relations, Food and Nutrition Services, Environmental Services and more support our ability to meet our patients' needs. Our employees are our most valuable resource and strength in furthering our mission as a regional academic medical center. In keeping with this mission, it is our goal to recruit, retain, develop and reward highly-qualified employees.
Jefferson's Learning & Development Center offers incredible training courses for staff at all levels, including those eager to move into management. We also offer leadership courses for managers, educating them on how to become an effective manager in today's healthcare environment. 
We are looking for talented and dedicated individuals to join our team and help us live our mission: "We Improve Lives."
We can only achieve our mission, vision, values and strategic goals through a dedicated and loyal work force. Jefferson offers competitive salaries and benefits and helps employees balance work and home life.
---
An Equal Opportunity Employer
The Thomas Jefferson University & Hospitals is an equal opportunity employer and does not discriminate on the basis of race, sex, sexual orientation, gender identity, religion, color, national or ethnic origin, age, disability, or veteran status.